Belleville Municipal Court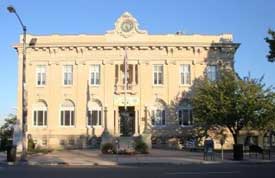 ADDRESS: 152 Washington Ave. Belleville, NJ 07109
PHONE: (908) 212-7020
COURT SESSIONS: Every Tuesday at 9:00 AM and every Wednesday at 9:00 AM and 6:00 PM
JUDGE: Hon. Frank J. Zinna
PROSECUTOR: Joseph C. Angelo, Esq.
The LS&P Lawyers Defense Team
At LS&P Lawyers we have a team of lawyers experienced in Criminal, DWI, and Traffic Violation defense ready to fight for your rights. Together, we have successfully represented people charged with crimes or traffic offenses in Belleville Municipal Court. If you have been accused of driving while intoxicated (DWI) we can provide you with an attorney who is certified in the administration of the Alcotest and sobriety tests for drunk driving. Few attorneys have these certifications, which can be invaluable to a successful defense.
We appear before the Belleville Municipal Court frequently, and know it well. If you are scheduled to appear before the Belleville Municipal Court for a criminal offense, traffic violation, or DWI call us now. We can provide you with a consultation to answer any questions you may have.
Why is my Case in the Belleville Municipal Court?
The Belleville Municipal Court handles all disorderly persons charges, DWI charges, and traffic tickets that occur in the Belleville. Disorderly persons offense include possession of less than 50 grams of marijuana, possession of drug paraphernalia, criminal mischief, disorderly conduct, obstruction and many more minor criminal offenses. Route 7 and Route 21 both pass through the township, increasing the number of traffic tickets and DWI cases heard in this court. Although these are not indictable crimes, the effects on your life can be substantial. Depending on the offense, the penalties may include time in the county jail, fines, fees and surcharges. In addition, you may face a driver's license suspension. A conviction will also result in a criminal record that can have long-lasting repercussions.
If you are scheduled to appear in Belleville Municipal Court contact one of our attorneys at LS&P Lawyers to minimize the effect your case may have on your life. You need an experienced attorney who knows all available options, including the strengths and weaknesses of both sides' cases. Call us at 908-709-0500 any time – day or night – to discuss your case and what we can do to help you.