Bloomfield Municipal Court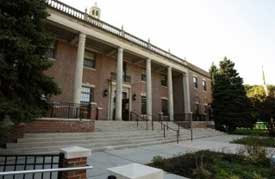 ADDRESS: 1 Municipal Plaza Bloomfield, NJ 07003
PHONE: (973) 680-4078
COURT SESSIONS: Tuesdays at 8:30 AM, Wednesdays at 6PM, and Thursdays at 8:30 AM
CHIEF JUDGE: Hon. John A. Paparazzo
JUDGE: Hon. Vincent A. Pirone
PROSECUTOR: Paul Sant'Ambrogio, Esq. and Richard DiLascio, Esq.
LS&P Lawyers Defense Lawyers
At LS&P Lawyers the defense team has over three decades of combined experience defending municipal court cases. We have successfully represented clients charged with crimes or traffic infractions – negotiating the best deal or trying the case. A unique attribute to our firm is an attorney certified in the administration of the field sobriety test and Alcotest breath testing device.
Lawyers from the LS&P Lawyers defense team appear frequently in the Bloomfield Municipal Court. We can guide you step by step through the process. If you have been arrested or issued a summons in Bloomfield call us 24/7 for a consultation to discuss your case.
Why is my Case in the Bloomfield Municipal Court?
The Bloomfield Municipal Court will hear your case because it is the place in which you were arrested, issued a summons or a traffic infraction. The Bloomfield Municipal Court hears cases involving Driving While Intoxicated and other motor vehicle offenses. In addition, the court hears what are known as disorderly persons offenses. The most common disorderly persons offenses include shoplifting (under $200), possession of less than 50 grams of marijuana, simple assault and disorderly conduct. However, while these offenses may be minor, the consequences for a conviction can be major. Heavy fines, suspension of your drivers license, a criminal record, and even jail-time can result from a guilty verdict. Hiring an experienced trial attorney will decrease your chances of receiving such penalties. Traffic offenses and DWIs are also heard here. A DWI is a very serious charge and has very severe consequences. Even some traffic infractions such as speeding, reckless driving, or driving without insurance can have unforeseen punishments which can be detrimental. Talk to the offices of LS&P Lawyers to make sure you know everything you need to know about your charge and how to deal with it.
The attorneys of LS&P Lawyers will defend your rights zealously and make sure you have a fighting chance in court. If you have any questions or concerns about your criminal charge, contact our offices immediately at 908-709-0500.