Clinton Township Municipal Court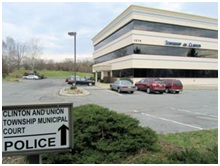 ADDRESS: 1370 Route 31 North Annandale, NJ 08801
PHONE: (908) 735-3730
COURT SESSIONS: Wednesdays at 10:30 AM
JUDGE: Hon. Eric M. Perkins
PROSECUTOR: Robert A. Ballard, Jr., Esq.
About the Defense Attorneys of LS&P Lawyers
At LS&P Lawyers our team of accomplished criminal defenses attorneys are available to assist you with your criminal, traffic, or DWI offense. Together we have over three decades or experience as well as specialized training in DWI defense. We have certifications in the Alcotest and field sobriety tests used by the police in making driving while intoxicated arrests. We are one of only a few law firms in the state to have these.
The Clinton Township Municipal Court tries individuals who have been charged with a disorderly persons offense or a DWI in the Clinton Township or Union Township areas. A disorderly persons offense includes offenses like underage drinking, simple assault, possession of drug paraphernalia, or harassment, and can be punishable by up to $1,000 in fines, a criminal record, and up to 6 months in jail. These are serious consequences so it is important to hire expert, professional legal representation in order to prevent a conviction or minimize the penalties of a conviction. Traffic and parking tickets are also dealt with here.
If you are scheduled to appear in the Clinton Township Municipal Court, no matter how minor the offense may seem, do not hesitate to call us. If you have any questions regarding your criminal, traffic, or DWI offense contact our office right away. One of our exceptional attorneys will be here to give you piece of mind.