Cranford Municipal Court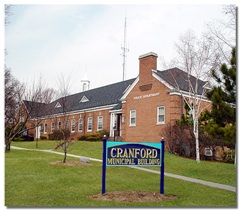 ADDRESS: 8 Springfield Ave. Cranford, NJ 07016
PHONE: (908) 709-7242
COURT SESSIONS: Wednesdays at 5:30 PM
JUDGE: Hon. Mark J. Cassidy
PROSECUTOR: Norman W. Albert, Esq.
Why Choose Us to Represent You in Cranford Municipal Court?
Our defense team at LS&P Lawyers has over 35 years of experience representing individuals faced with criminal, DWI, and traffic offenses. In addition to our extensive experience we are certified in DWI defense. Our certifications include specialized knowledge in the field sobriety tactics and Alcotest machine used by police in drunk driving arrests. This unique field of knowledge gives us a leg up in preparing our clients defense strategy. Only a few attorneys within the state of New Jersey have these same qualifications.
In addition to our record of success and unrivaled qualifications our office is located within minutes of the Cranford Municipal Court. Our location provides an ease of convenience for our clients that are scheduled to appear in the Cranford Municipal Court. More importantly, we frequently appear in this court. Over the years our professionalism and reputation has allowed us to be successful in taking our cases through trial and negotiating exceptional plea deals with the prosecutor.
Why is my Case in Cranford Municipal Court?
The Cranford Municipal Court handles cases in which individuals have been charged with a disorderly persons offense or DWI. This means if you were arrested for driving while intoxicated or a minor criminal offense such as possession of less than 50 grams of marijuana, disorderly conduct, harassment, or possession of drug paraphernalia among other offenses, your case will be tried here. If you were pulled over for a traffic violation in the town of Cranford and issued a ticket it will also be handled here.
Despite how minor the offense may seem, each can have long lasting and long reaching effects on your life including expensive fines, community service, a criminal record, and the possibility of jail time. Even something as simple as a speeding ticket can have major ramifications including increased insurance premiums, DMV surcharges, or suspended driving privileges.
Let our team at LS&P Lawyers represent you professionally and give you a fighting chance in court. The offices of LS&P Lawyers are available 24/7 for consultation and are located conveniently at 123 North Union Ave in Cranford, NJ 07016. If you have any questions regarding your criminal or traffic charge or legal course of action do not hesitate to reach out to one of our experienced attorneys. Contact us at 908-709-0500 for legal representation in Cranford Municipal Court.