Franklin Township Municipal Court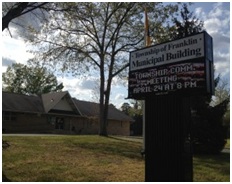 ADDRESS: 495 Demott Lane Somerset, NJ 08873
PHONE: (732) 873-2500
COURT SESSIONS: Tuesday at 4:00 PM, 1st & 2nd Wednesdays at 5:00 PM, and Thursdays: 1st Session at 9:00 AM, 2nd Session at 12:30 PM
JUDGE: Hon. Maria Del Valle-Koch
PROSECUTOR: Hector I. Rodriguez, Esq.
Franklin Township Defense Attorneys
Over the past 35 years, the team of criminal defense lawyers at LS&P Lawyers have routinely defended individuals in municipal courts throughout New Jersey. Have you been arrested or issued a summons in Franklin Township? If so, we are ready to put our decades of experience to work for you. In addition to our extensive experience we have specialized training in DWI (driving while intoxicated) defense. We have certified training in the Alcotest machine which is used to determine a persons blood alcohol content (BAC). We are also certified in the field sobriety tactics used roadside by police when making a drunk driving arrest. These unique qualifications allow us to spot the flaws in the State's case and bolster your defense. Call us to discuss how we can utilize our attributes in your favor. As always, the initial consultation is free.
Why would I be in Franklin Township Court?
The Franklin Township Municipal Court presides over non-indictable offenses referred to as disorderly persons offenses in the state of New Jersey. The Franklin Township court is responsible for handling disorderly persons offenses such as underage drinking, possession of less than 50 grams of marijuana, possession of drug paraphernalia, disorderly conduct, resisting arrest, simple assault, etc. The court also handles all DWI's that occur within Franklin Township. It is sensible to contact a lawyer who specializes in municipal court practice because a conviction can still have serious consequences that can impact your life.
Speak with one of our experienced defense lawyers to make sure you learn everything you need to know about your charge. Our lawyers will use their years of training and experience to improve your case and protect your rights.
The Franklin Township Municipal Court is presided over by Hon. Maria Del Valle-Koch. She graduated from Seton Hall School of Law in 1987 and has served on the bench since 2008. This Court handles individuals charged with all sorts of criminal and traffic offenses.
The offices of LS&P Lawyers are located at 123 North Union Ave in Cranford, NJ 07016 and are available 24/7 at 908-709-0500.