Linden Municipal Court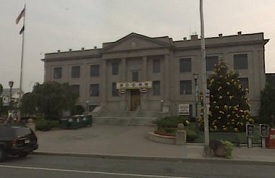 ADDRESS: 25 301 N. Wood Ave. Linden, NJ 07036
PHONE: (908) 474-8546
COURT SESSIONS: Tuesdays and first Wednesdays at 8:30 AM and all other Wednesdays at 5:30 PM. During Sept. - April: Mondays at 5:30 PM.
JUDGE: Hon. Daniel Roberts
PROSECUTOR: Nicholas Scutari, Esq.
Linden Municipal Court Defense Attorneys
LS&P Lawyers, has decades of experience defending individuals in Linden Municipal Court. It is worth the investment to hire experienced legal representation for your municipal court appearance. The Linden Municipal Court handles disorderly persons offenses (commonly referred to as misdemeanors in other states), DWI and traffic violations. While none of these may sound like heinous crimes, the consequences can still be severe. At LS&P Lawyers our attorneys routinely appear in municipal courts throughout the state. We are familiar with the overall procedures and many of the courts, judges and prosecutors themselves.
In addition, we have an attorney who has specialized training in DWI defense, including certifications in the Alcotest and field sobriety procedures. The New Jersey DWI laws are complex. Let us handle your defense.
If you or someone you love has been arrested in Linden or issued a traffic ticket call us immediately. No offense is too small and no question is silly. To discuss your concerns and have your questions answered schedule a consultation today. We are available 24/7 at 908-709-0500.
Why do I Have to go to Linden Municipal Court?
If you have been charged with a disorderly persons offense, DWI, or traffic violation, you will have to appear before the Linden Municipal Court, which is presided over by Honorable Daniel Roberts.
A disorderly persons offense could be a number of different offenses, including but not limited to underage drinking, possession of less than 50 grams of marijuana, criminal mischief, resisting arrest, obstruction, or disorderly conduct. In New Jersey these are considered the least significant criminal charge, but a conviction can be very serious. Consequences may include heavy fines, loss of license, a criminal record, and even a county jail sentence. Our attorneys have successfully argued these types of cases hundreds of times throughout the local courts. We will use that valuable knowledge to aid your case.
About Linden Municipal Court
The Municipal Court is busy with DWIs, speeding tickets, driving while suspended offenses, reckless driving summonses, and careless driving allegations, due to the city's proximity to Route 1 and Route 9. Drug possession cases and simple assault complaints are also commonly heard. On an average week the municipal courthouse in Linden hears 50 disorderly persons cases and 100 DWI infractions & traffic tickets.
Our municipal court defense lawyers will work tirelessly for you. If you have any questions regarding legal matters call and speak to an experienced attorney in our office right away. You can be sure that our lawyers will provide you with the information and representation you need.