Springfield Municipal Court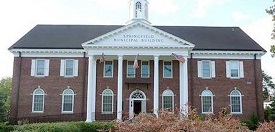 ADDRESS: 100 Mountain Ave. Springfield, NJ 07081
PHONE: (973) 912-2213
COURT SESSIONS: Every Monday at 5:00 PM
JUDGE: Hon. Jonathan Rosenbluth
PROSECUTOR: Howard Egenberg, Esq.
Springfield Municipal Court Defense Attorneys
Do you have a charge pending in Springfield Municipal Court? It is important to seek legal representation before going into court. The lawyers at LS&P Lawyers have over 35 years of criminal defense experience. We have successfully represented clients charged with or arrested for criminal, traffic, and DWI offenses in Springfield Municipal Court on many occasions. Our firm includes attorneys who have a proven track record of success, lawyers with thousands of hours of trial and courtroom experience, and an attorney with specialized training in DWI defense strategy. If you have an upcoming appearance scheduled in Springfield Municipal Court go prepared with knowledgeable legal counsel on your side.
Why do I Have to Appear in Springfield Municipal Court?
The Springfield Municipal Court presides over motor vehicle (traffic) violations, DWI and disorderly persons offenses. A disorderly persons offense could be a number of transgressions, including but not limited to underage drinking, criminal mischief, simple assault, possession of less than 50 grams of marijuana, possession of drug paraphernalia, shoplifting, and petty theft (amount stolen valued at less than $200). While these may seem relatively minor, they can have long-lasting consequences that may negatively impact your life. An experienced trial lawyer can help reduce the chances of being convicted in the municipal court. We will discuss whether to negotiate a plea agreement or take the case to trial. Each case is unique and requires undivided attention that our lawyers are committed to providing.
The Springfield Municipal Court is presided over by Hon. Jonathan Rosenbluth. He is a graduate of University of Maryland School of Law and has over 30 years experience as a trial attorney with a concentration in insurance defense litigation.
Contact Us
At LS&P Lawyers we will represent you with commitment and integrity. Our clients are our number one priority. We are available 24 hours a day, seven days a week to take your call. We will answer any questions you have and arrange an initial consultation.