Union Municipal Court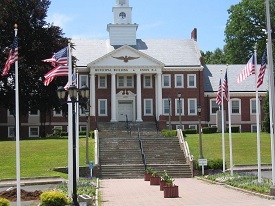 ADDRESS: 981 Caldwell Ave. Union, NJ 07083
PHONE: (908) 851-5400
COURT SESSIONS: Mondays at 9:00 AM, Tuesdays at 9:00 AM and 6:00 PM, Wednesdays at 9:00 AM, and Thursdays at 9:00 AM and 6:00 PM
CHIEF JUDGE: Hon. Jonathan Rosenbluth
CHIEF PROSECUTOR: Michael Wittenberg, Esq.
Union Criminal Defense Attorney
Union Municipal Court is one of the busiest courts in the area. We are Union criminal defense attorneys with years of experience under our belt. Each of our lawyers is knowledgeable, skilled and accomplished in criminal, DWI and traffic defense. We are located in Cranford, New Jersey, just steps from Union and therefore appear frequently in Union Municipal Court. Obtaining competent legal representation is one of the most important things to do when faced with a court appearance.
If you have been charged with a criminal offense or DWI a lot can be at stake. At LS&P Lawyers we have had much success in combating charges in Union Municipal Court. Call us for a consultation and we will help put your mind at ease. Hiring a lawyer upfront will cost money but going forward without legal counsel can cost much more.
Why Should I Hire an Attorney for my Union Municipal Court Appearance?
Even though Union Municipal Court only handles minor criminal offenses it is still important to have legal representation. The court has the power to decide disorderly persons and petty disorderly persons offenses which include possession of less than 50 grams of marijuana, possession of drug paraphernalia, disorderly conduct, obstruction, criminal mischief, shoplifting etc. Although these offenses pale in comparison to crimes such as murder, rape, or armed robbery they still have significant consequences that can result from a conviction. These offenses carry up to 6 months in jail, fines, supervised probation, and of course – a criminal record. Hiring an attorney provides your best chance at avoiding these ramifications.
DWI convictions are even more unforgiving, so it is essential for you to seek experienced and aggressive legal representation. Our attorneys have years of practice defending DWI charges. One of our attorneys even has advanced training in the Alcotest and Field Sobriety Test, both of which are methods used by police to determine if you were intoxicated while driving. Only a handful of attorneys in the state have this sort of training. We will use these unique qualifications to find irregularities in the officer's performance of the test, weakening the State's case and improving yours.
We will protect your rights and improve your chances in court. We have a record of success of beating these charges altogether or at least substantially reducing the consequences that follow. Call us to meet with one of our criminal defense attorneys today. We will take care of you!