Watchung Municipal Court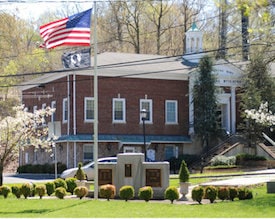 ADDRESS: 840 Somerset Street Watchung, NJ 07069
PHONE: (908) 757-1407
COURT SESSIONS: Alternate Thursdays at 9:00 AM and last Mondays of each month at 4:00 PM
JUDGE: Hon. John F. Richardson
PROSECUTOR: Richard Guss, Esq.
The attorneys of Lubiner, Schmidt & Palumbo defend those charged with criminal and traffic offenses in the Watchung Municipal Court. This court oversees the municipalities of Watchung and North Plainfield. For years, we have successfully defended clients charged with all types of municipal court offenses. We are criminal and DWI defense trial lawyers. Our firm includes a DWI lawyer who is specially trained in the administration of the Alcotest and Standardized Field Sobriety Tests. We have extensive municipal court trial experience and have achieved not guilty verdicts for our clients facing shoplifting charges, DWI offenses, refusal tickets, simple assault, speeding and other traffic violations and domestic violence related charges (just to name a few). We are recognized attorneys and our experience will be on your side. We have offices in Somerset County close to the court.
The municipal court has jurisdiction over all disorderly persons offense and traffic violations. Some of these offenses include shoplifting, DWI, drug possession, marijuana and paraphernalia charges, simple assault, harassment, disorderly conduct, speeding, obstruction of justice, reckless and careless driving. Of course, this is just an example of the types of cases the court hears. There is no situation that we have not handled in the Municipal Court. We are not just "show up" attorneys. We continue to demand from our attorneys that they get results that make our clients happy. Our reviews from former clients confirm that we handle all cases with 100% effort.
It is also important to remember that there are very few non-serious offenses. Even seemingly minor offenses can turn into auto insurance nightmares. Document violations such as driving while suspended or revoked, driving without insurance etc., could result in lengthy license suspension or even jail time. This is particularly the case with driving while suspended in violation of N.J.S.A. 39:3-40. Multiple convictions for this offense, DWI related suspensions, and injuries during an accident with a suspended license are just a few examples of situations where the court will impose jail time.
We offer consultations and take our time to thoroughly explain the consequences. We don't unnecessarily scare you like others who send letters may do. We give a thoughtful and educated opinion about your municipal court case and how we would handle it.
The Watchung Municipal court is presided over by John F. Richardson. He has almost 45 years experience practicing law and has been a municipal judge for many years. This Court handles individuals charged with all sorts of criminal and traffic offenses.
Watchung is a prosperous borough of 5,801. Even though it is wealthy, the rate of property crime is very high, especially the rate of theft. However, this is due to the large stretch of businesses along Route 22, which runs right through Watchung. These businesses report many instances of shoplifting and theft, so the rate of property crime is abnormally high. Blue Star Mall, for instance, provides much of the shoplifting offense docket. The presence of Route 22 coupled with the high volume of police in the area also leads to an abundance of traffic stops. These in turn lead to traffic violations and DWIs.
North Plainfield is a borough of 21,936. It is extremely densely populated, with almost 8,000 people per square mile. The property crime rate of North Plainfield is high as well, due to the close proximity of people in the borough and the presence of businesses along Route 22. The rate of violent crime is also very high compared with the rest of Somerset County, with the rate of robbery being almost twice the state average. The lawyers of Lubiner, Schmidt & Palumbo defend all types of criminal charges and they will make sure that you receive the best representation possible.
The municipal courthouse in Watchung hears an average of 15 disorderly persons charges, as well as around 35 traffic tickets & DWI cases every week. The North Plainfield Municipal court is busier, hearing about 20 disorderly persons cases and 65-75 traffic citations & DWI charges a week. Whatever charge you are facing, our lawyers are willing to help. Our offices are available 24/7 for consultation. You can be certain that we will put in the work your case deserves.