Summit Municipal Court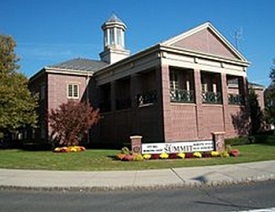 ADDRESS: 512 Springfield Ave. Summit, NJ 07901
PHONE: (908) 273-6166
COURT SESSIONS: Every Wednesday at 9:00 AM
JUDGE: Hon. Donald P. Bogosian
PROSECUTOR: Michael J. Mitzner, Esq.
Summit DWI and Criminal Defense Lawyers
The lawyers at LS&P Lawyers have over 35 years of experience in the municipal court system throughout the state. Our veteran attorneys include a former prosecutor and an attorney certified in DWI defense. With courses and certifications in the field sobriety tactics and Alcotest procedures used by the police, our attorneys are prepared to fight for your rights in court. We will use our unique qualifications and experience to weaken the State's case and improve yours. We have successfully represented clients charged with or arrested for criminal, traffic, and DWI offenses throughout the state, including in Summit. If you are facing a criminal complaint, DWI or just a traffic violation in Summit we are here to help. Come in for an initial consultation and we will discuss possible defense strategies.
Summit Municipal Court Docket
The Summit Municipal Court has the power to decide disorderly persons and DWI cases. A disorderly persons offense and petty disorderly persons offense are considered the least severe criminal offenses in New Jersey. These include crimes such as underage drinking, possession of less than 50 grams of marijuana, trespassing, simple assault, resisting arrest and disorderly conduct. Don't let the fact that these offenses are considered minor fool you. A conviction can still have devastating consequences for you and your family. Our attorneys will provide you with the assistance you need to improve your chances in court.
The Summit Municipal Court also handles all traffic and parking tickets issued in Summit. Even a traffic ticket can have substantial consequences. Depending on your driving record and other factors, a traffic offense may not be so simple. It could result in hefty fines, increased insurance premiums, even a loss of license.
The Honorable Donald P. Bogosian presides over the Summit Municipal Court. He graduated from Cleveland State University with a law degree and has 38 years experience in Real Estate and Trusts and Estates Law. This Court handles individuals charged with all sorts of criminal and traffic offenses.
Make sure your rights are protected and contact our office today. We will support you passionately while aiding you in the courtroom. Contact one of our experienced attorneys today if you have any legal questions or worries. We can be reached 24/7 at 908-709-0500.