Diversity Immigration Visa Program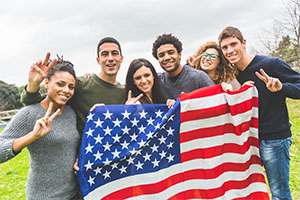 The United States Department of State awards 50,000 diversity visas (DV), or green cards, annually through the Diversity Immigrant Visa Program (also known as the Green Card Lottery) to individuals from eligible countries who currently reside in and outside of the United States. Eligible countries are those that have historically lower rates of individuals immigrating to the United States. The diversity visas are distributed among six geographic regions, with each region receiving no more than seven percent (or 3,500 visas) of the total awarded.
Diversity visas are awarded to applicants by a randomized computer-generated drawing system. Those selected may then apply for a green card, allowing them to live, work, and study in the United States, and later apply for U.S. citizenship, if they choose to do so.
Being selected does not mean that a winner will automatically be granted a green card. Winners must meet all requirements under U.S. immigration law in order to receive their green card.
This year, online registration for the DV-2016 Program will be held between Tuesday, October 1, 2014 at 12:00PM EDT and Saturday, November 2, 2014 at 12:00PM EDT. Applicants must apply online at www.dvlottery.state.gov. There is no cost to apply.
Lottery Entry Requirements
The Green Card Lottery is open to all individuals worldwide who:
Were born in an eligible country; and
Meet either the education or work experience requirement
Applicants do not need to prove these requirements at the time they submit the online application, but will have to submit proof of the requirements if selected.
Eligible Countries
All countries are eligible, with the exceptions noted below. Individuals from these excepted countries are not eligible to apply for the lottery because 50,000 individuals from these countries have already immigrated to the United States within the last five years. The list of ineligible countries is as follows:
Bangladesh
Brazil
Canada
China (mainland only: Hong Kong, Macao, and Taiwan are eligible)
Colombia
Dominican Republic
Ecuador
El Salvador
Haiti
India
Jamaica
Mexico
Nigeria
Pakistan
Peru
Philippines
South Korea
United Kingdom and its dependent territories (Northern Ireland is eligible)
Vietnam
Individuals from non-eligible countries may still be qualified applicants if they meet one of the following requirements:
If the individual's spouse was born in an eligible country, the individual may claim their spouse's country of birth as their own
If both parents of the individual were born in an eligible country and did not reside in the individual's country at the individual's time of birth, the individual may claim either parent's country of birth

Usually, one is not considered to be a resident if they are only visiting a country, studying there temporarily, or are stationed there temporarily for business on behalf of a foreign company or government
Education / Work Experience Requirement
To satisfy the education/work experience requirement, an applicant must have:
At least a high school diploma or its equivalent (i.e., the applicant has attended 12 years of elementary and secondary school); or
At least two years of work experience within the last five years, in a job requiring at least two years of training
Selected Applicants
Applicants who complete the online submission to the lottery will receive a confirmation number. Beginning on May 1, 2015, applicants will be able to check their status by visiting the lottery website at www.dvlottery.state.gov, and clicking on Entrant Status Check. This is the only way an applicant will learn if they have been selected.
DV-2016 visas will be issued between October 1, 2015 and September 30, 2016. Applicants should continually check the lottery website to learn whether they have been selected.
While most winners live outside of the United States and, once selected, immigrate through the issuance of an immigrant visa, some live in the United States as nonimmigrants or another legal status when they are selected. These individuals must apply for an adjustment of status with USCIS. Note that they must satisfy all eligibility requirements for adjustment of status.
Fraud Warning
The U.S. Department of State employs sophisticated technology to identify fraudsters trying to immigrate illegally or who submit multiple entries.
In addition, as stated earlier, notice of selection is given solely through the lottery website. Applicants should not send money to any entity sending a letter or email claiming that the applicant has been selected for a diversity visa.
Again, selection in the lottery does not guarantee that the winner will automatically be awarded a green card. All winners still must prove that they meet all green card requirements under U.S. immigration law.
If you have any questions about the DV lottery, do not hesitate to call our office. The experienced New Jersey immigration attorneys at LS&P Lawyers are here to help you.