Student Visas
F-1 Visas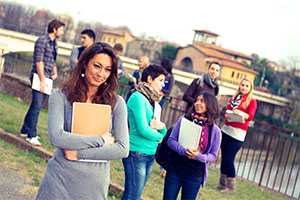 The following is a basic outline of certain student visa procedures, particularly F-1 visas. However, we are immigration lawyers with years of experience and we strongly suggest that you contact an experienced immigration lawyer for a consultation. The information provided in this blog is geared towards helping you make an educated decision when choosing representation in your immigration matter. Attorneys at our firm are available 24/7 to assist if you need more information about student visas or other immigration and naturalization issues.
What is an F-1 Visa?
F-1 visas are available to aliens coming temporarily to the United States to attend school. The applicant must plan to pursue a full time program of academic study at an educational institution that is authorized by the USCIS to enroll foreign students. The student must have a home in a foreign country to which he or she will return after completion of studies. In addition, he or she must be proficient in the English language, and have sufficient funds available for his or her support during studies in the U.S.
F-1 status is not available to an alien who seeks to attend a public elementary school or a public adult education program. Entry into the U.S. to attend a public secondary school is also prohibited unless the total period in F-1 status does not exceed one year, and the alien reimburses the school for the costs of providing education. Any alien who violates this provision is barred from admission to the United States for a period of five years.
Note: Students who have not yet made a final decision on the school they wish to attend, and want to come to the U.S. to visit schools in order to make a final selection, may apply for a "B-2" visitor's visa. The applicant must disclose the reason for his/her trip to the American Consul. The Consular Officer will note "prospective student" on the visa. After entry to the U.S., prospective students must apply to the USCIS for a change of visa status when they have made their final school selection, and have been accepted by the school.
Qualified students who wish to enter the U.S. more than ninety days before their school's starting date, can apply for a B-2 visa with the understanding that they will file with the USCIS to change to F-1 status prior to commencing studies.
Note of caution: In the above instances, after approval of a change of status, the student will not have a student visa, only student status in the U.S. If the student leaves the U.S., he or she must apply for an F-1 visa at an American Consulate before reentering the U.S. as a student.
Length of Stay
The visa is usually granted for the period of time in which the student is pursuing a full time course of study, including engaging in practical training, plus sixty days to prepare for departure from the U.S. This is referred to as "duration of status" or "D/S". The American Consular Official will sometimes write the school's name on the visa. The I-20A-B/I-20ID should be returned to the student, who should subsequently present it to the USCIS official at the point of entry into the U.S. The USCIS officer will then issue Form I-94, write the admission number from Form I-94 on Form I-20, and return the "student part" of Form I-20 (I-20ID). The USCIS will then forward the school's copy of Form I-20 to the USCIS processing center, which will then send it back to the school as evidence of the student's admission in F-1 status.
Under normal conditions, the student is not required to apply for extension of stay in the U.S., as long as he or she is a full time student, and will complete the course of study within the time indicated on Form I-20. Spouses and minor children can be granted F-2 visas, which are not valid for employment.
Students who will remain in one educational level for an extended period of time, or remain in student status for eight consecutive years should check with the Designated School Official (DSO) about extending their stay.
A student who is in F-1 status can leave the U.S. for up to five months and be readmitted in student status as long as he or she has:
A current I-20ID endorsed by the Designated School Official (DSO), who is often the Foreign Student Adviser, or
A new Form I-20A-B if the student's program is changing (such as a change in major, advancement to a higher level of study, or an intended school transfer)
A valid student visa and a passport valid for at least six months.
What is SEVIS?
The Student and Exchange Visitor Information System (SEVIS) was implemented after the September, 2001 terrorist attacks as part of the government's effort to restore integrity to the nation's immigration system. SEVIS is a web-based program that maintains information on international students (F/M visas) and exchange visitors (J visas) and their dependents residing in the United States. It is administered by U.S. Immigration and Customs Enforcement's (ICE) Student Exchange and Visitor Program (SEVP) and used by U.S. Customs and Border Protection (CBP) Officers at ports of entry. SEVIS has simplified what was once a manual process, resulting in more accurate and timely data, faster processing and fewer delays.
Prior to SEVIS, school recordkeeping of students was very haphazard. Schools now adhere strictly to requirements, and USCIS will be notified immediately if a student violates his or her status.
If a student does not have an electronic record in SEVIS, the DHS will notify the school if the student enters the United States to attend their institution. If the student fails to register, the school must notify the government no later than 30 days following the deadline for registering for classes.
Are Foreign Students Allowed to Work?
Generally, foreign students are not allowed to work in the United States. As noted earlier, one of the requirements for a student visa is that the student proves that enough funds are available to pay for his or her education and support for the duration of studies. However, there are five ways that students can work while in F-1 status. They are:
On campus employment
Practical training- includes curricular practical training and optional practical training before or after completion of studies
Off campus employment due to severe economic hardship
International organization internships
Special student relief
Get the Best Legal Assistance Today
The NJ immigration attorneys at LS&P Lawyers handle all types of Immigration and Naturalization matters, so please contact us today at (844) 288-7978 for assistance.