Texting While Driving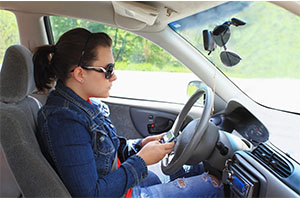 Texting while driving is a serious issue in New Jersey. In 2011, a study shows that 23% of auto collisions, or 1.3 million accidents, involved the use of a cell phone. It is especially prevalent among teenagers, 82% of whom own cell phones and 34% of whom admitted to texting while driving. People are 23 times more likely to crash while texting and driving, so New Jersey decided to put an end to it. Ever since people have realized the dangers of using their cell phones while driving, the punishments for doing so have become much more severe.
In New Jersey, texting while driving is a primary law under P.L. 2007, CHAPTER 198. This means that if a police officer sees you on your phone or looking down and texting, he can pull you over without having to witness another traffic violation. He will fine you $100 for the text, but you will not receive points for the offense. Police are trained to perceive texting while driving, even at high speeds, so the best way to avoid fines is to not do it at all.
If you have any questions feel free to contact LS&P Lawyers. We are available 24/7 and have offices conveniently located in New Jersey.