Fake ID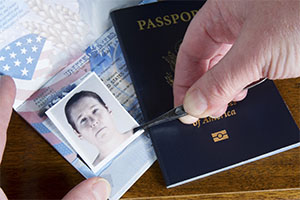 Fake IDs are very prevalent among college students. Exposed to copious amounts of alcohol yet unable to buy any for themselves, college students purchase IDs in order to go out at night to bars and clubs and have a good time. To many of these students this is a victimless crime as they aren't causing harm to others. Yet in New Jersey this is considered a serious offense, governed by N.J.S.A 2C:21-2.1. People charged with possession of a fake ID face fines, a criminal record, and possibly jail time.
The most serious offense involving a fake ID is the creation or sale of one. This is considered a second degree offense, and can result in up to 3 years imprisonment. Even possessing the materials to create a fake ID constitutes a second degree offense. The use of a fake ID is a third degree offense which is punishable by up to 2 years in prison. The possession of a fake ID is a fourth degree offense, punishable by up to 1 year in prison.
The use of a fake ID by an underage person to purchase alcohol or tobacco is considered a disorderly persons offense and imposes a minimum fine of $500, loss of a driver's license for 6 months, and up to six months imprisonment if he has a record.
If facing this situation, please contact a New Jersey defense lawyer at LS&P Lawyers. We are available 24/7 and have offices conveniently placed in New Jersey.