Harassment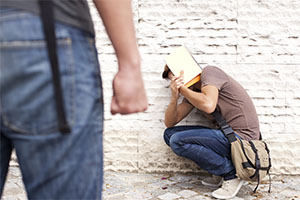 We represent clients charged with harassment throughout New Jersey. When charged with a harassment offense, it is important to meet with an attorney right away. Harassment cases are often fact sensitive and each one is unique. Our firm defends individuals facing these charges. We are available to answer any questions you may have during a consultation.
New Jersey's Harassment Statute, N.J.S.A. 2C:33-4, Provides:
A person commits a petty disorderly persons offense if, with purpose to harass another, he:
Makes, or causes to be made, a communication or communications anonymously or at extremely inconvenient hours, or in offensively coarse language, or any other manner likely to cause annoyance or alarm;
Subjects another to striking, kicking, shoving, or other offensive touching, or threatens to do so; or
Engages in any other course of alarming conduct or of repeatedly committed acts with purpose to alarm or seriously annoy such other person.
Harassment becomes a fourth degree offense if it occurs while the individual was in prison, on parole, or on probation at the time.
In a harassment case, the prosecutor must prove, beyond a reasonable doubt, that the defendant intended to harass another. In other words, did the defendant act with the purpose to harass, annoy, or alarm another person? Did the defendant strike, kick, shove, or offensively touch the victim with the intent to harass the victim? Most importantly, the use of profanity alone is not necessarily indicative of an intention to harass. Also, keep in mind that "purposeful" or "with purpose" is the highest form of intent contained in the criminal code, and the most difficult for the prosecutor to establish.
The courts also consider whom the communication or act was directed toward. Race, religion, or gender may be crucial factors in determining whether harassment actually occurred. Another factor is whether the charges stem from a single incident or repetitive conduct.
Many harassment charges stem from domestic violence related issues. Has a relationship with you and a former spouse or partner gone sour? Or maybe you've just crossed the line with an acquaintance. Sometimes confrontations can escalate, lead to offensive language, unwanted touching, or alarming conduct that may result in harassment charges. Relationships can be complicated and sometimes result in inappropriate behavior. Either way we are here to help.
The penalties for a harassment conviction can range from fines, community service, or possibly even jail time. However, just because you are charged with harassment does not mean you will necessarily be convicted. It is important to speak with a New Jersey criminal attorney as soon as possible because every situation is different.