Controlled Substance in a Vehicle
Operating a Motor Vehicle With a Controlled Dangerous Substance in Possession or in Motor Vehicle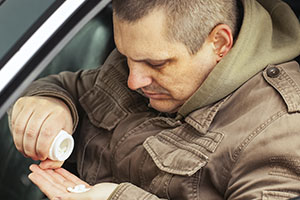 Have you been charged with possession of CDS while operating a motor vehicle? CDS includes any and all illegal drugs such as heroin, cocaine, and prescription drugs for which you do not have a valid prescription from a licensed physician. However, more often than not, the substance an individual is arrested for is marijuana. Although this is technically a motor vehicle offense, being convicted can carry steep consequences. In addition to facing a criminal record and possibly jail time you may be facing a suspended license as well. At LS&P Lawyers we have helped our clients successfully avoid conviction for drug related motor vehicle offenses.
N.J.S.A. 39:4-49.1 Provides:
No person shall operate a motor vehicle on any highway while knowingly having in his possession or in the motor vehicle any controlled dangerous substance as classified in Schedules I, II, III, IV and V of the "New Jersey Controlled Dangerous Substances Act," P.L. 1970, c. 226 or any prescription legend drug, unless the person has obtained the substance or drug from, or on a valid written prescription of, a duly licensed physician, veterinarian, dentist or other medical practitioner licensed to write prescriptions intended for the treatment or prevention of disease in man or animals or unless the person possesses a controlled dangerous substance pursuant to a lawful order of a practitioner or lawfully possesses a Schedule V substance.
A person who violates this section shall be fined not less than $50.00 and shall face a license suspension of two years from the date of his conviction.
If you or someone you love are charged with this offense it important to consult with an attorney. A two-year license suspension can be devastating and disruptive. It may make it difficult to obtain or keep a job. We are available to answer any questions you may have during a consultation and to discuss possible options and defenses to your case.
In order to be convicted of possession of CDS in a vehicle, the prosecutor must prove that you were the driver or the vehicle and that you knowingly possessed marijuana. The driver is presumed to have knowledge that marijuana is in the vehicle. In other words, you will have the opportunity to rebut this presumption by presenting evidence which disproves you had any knowledge of drugs in the car.
In Addition, We can Explore:
Whether the police had probable cause to search your car.
Whether you were informed of your rights.
Whether occupants of the car, including the driver, were properly searched.
Don't wait. Contact a New Jersey drug crime attorney at LS&P Lawyers with any questions you may have. We can discuss your case along with any possible defenses in order for you to avoid a criminal conviction and the consequences that follow.