Sentencing
Sentence of Imprisonment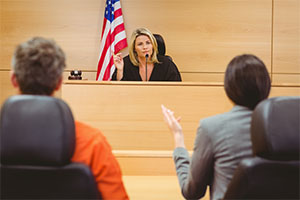 Any criminal conviction can result in a prison sentence. Whether prison will be part of the sentence, the length of any prison term, and when parole will be available will all depend on a number of factors. The first factor in the determination is the nature of the crime. New Jersey divides violations of criminal statutes into six categories, which are, First, Second, Third and Fourth Degree Crimes and Disorderly Persons Offenses, and Petty Disorderly Persons Offenses (from most to least serious). The second factor is a balancing of what are called aggravating and mitigating factors (that is, factors that make the crime more or less serious). Examples of aggravating and mitigating factors are below:
Aggravating Factors
The crime committed was especially heinous or cruel
Gravity and seriousness of the harm inflicted on the victim
Risk of a repeat offense
Offense was committed against a police officer, fireman, or other public service because of his position
Advanced age, ill-health, or extreme youth of the victim
Mitigating Factors
Conduct did not cause or threaten serious harm
Defendant acted under strong provocation
Victim caused the actions of the defendant
Defendant has compensated the victim or will participate in community service
Defendant has no prior criminal record
Willingness of the defendant to cooperate with law enforcement
The first question is whether or not there will be any prison term as part of the sentence. If it is a first offense and a 3rd or 4th degree crime, or a disorderly persons offense of either type, there is a presumption that there will be no prison sentence. There are exceptions to that presumption for certain crimes, including theft of a motor vehicle, for example. Conversely, if the conviction is for a 1st or 2nd degree crime, there is a presumption that there will be a prison sentence, which can be avoided only if the judge determines that imprisonment of the defendant would be a "serious injustice." There are also rules for specific crimes. For example, a second theft of a motor vehicle means a presumption of prison.
The length of a prison term is also a product of those factors plus exceptions for particular crimes or circumstances. The general rule for different levels of criminal convictions is below.
| | |
| --- | --- |
| Level of Offense | Normal Sentence Range |
| First Degree Crime: | Between 10 and 20 years |
| Second Degree Crime: | Between five and 10 years |
| Third Degree Crime: | Between three and five years |
| Fourth Degree Crime: | Up to18 months |
| Disorderly Persons Offense: | Up to 6 months |
| Petty Disorderly Persons Offense: | Up to 30 days |
The aggravating and mitigating factors play a large part in whether a defendant is sentenced to the low end, middle or high end of the range of sentences available to the judge.
That is not the end of the analysis, however. Under some circumstances, the judge can sentence a defendant to a prison term longer than those in the table above. Those longer sentences are called "Extended Terms." If the judge finds that any items on the following list of factors apply to a person convicted of a 1st, 2nd or 3rd Degree Crime, the judge can sentence the defendant to an Extended Term.
A persistent offender - A person who has been previously convicted on two separate occasions for two crimes.
A person who has been convicted a second time and he used or possessed a firearm.
A professional criminal - a person who committed the crime as part of criminal activity in conjunction with two or more people and criminal activity is his major source of livelihood.
A person who was paid to commit the crime.
A person who used violence or the threat of violence on a victim less than 16 years old.
There are other bases to be sentenced to an extended term relating to specific crimes, including some crimes of the 4th degree. For example, an extended term for murder is 35 years to life. For aggravated manslaughter, first degree kidnapping, or aggravated sexual assault against a minor under 16 years old, the extended term is 30 years to life imprisonment. The general rule for extended terms is in the table below.
| | | |
| --- | --- | --- |
| Level of Offense | Normal Sentence Range | Extended Sentence Range |
| First Degree Crime: | 10 to 20 years | 20 years to Life |
| Second Degree Crime: | 5 to 10 years | 10 to 20 years |
| Third Degree Crime: | 3 to 5 years | 5 to 10 years |
Another element in any prison sentence is eligibility for parole. Some crimes include a minimum period or portion of the prison term during which the prisoner cannot be paroled, they include certain offenses committed using or possessing a firearm, death by auto when the defendant was under the influence of alcohol or drugs, second and subsequent sex offenses, and distribution of drugs on or near school property. For other offenses for which there is no statutory minimum period without parole, the sentencing judge may set such a minimum if the judge is clearly convinced that the aggravating factors substantially outweigh the mitigating factors.
As you can see even from this brief discussion, the law relating to sentences of prison terms is complicated and involves the interaction of a number of different statutes before the sentence is determined. You have an opportunity to affect the sentence issued through submissions to and discussions with the probation department, the office of the prosecutor and the court. To make the most of those opportunities, you must be able to present the law and the options available to those parties in your particular case. You need knowledgeable counsel to craft those arguments and present them.
Call LS&P Lawyers at (908) 709-0500, day or night, for knowledgeable and skillful representation.