Deferred Action for Childhood Arrivals (DACA)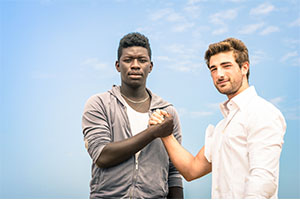 On June 15, 2012, the Obama administration announced that young immigrants may apply for deferred action, which allows them to obtain employment authorization (work permits) valid for a period of two years, with an option for renewal for another two years. Deferred action may be granted to immigrants currently in deportation proceedings or who have never been in deportation proceedings. However, it is a form of temporary relief only; it does not grant an individual citizenship or permanent resident status. In addition, deferred action is discretionary and decided on a case by case basis.
Who is Eligible for DACA?
To be eligible for deferred action, an applicant must:
Have been under the age of 31 as of June 15, 2012
Have arrived in the United States before the age of 16
Have continuously lived in the United States since June 15, 2007

Individuals who have traveled outside of the United States between June 15, 2007 and the present are ineligible for deferred action

Have been residing in the United States on June 15, 2012, and at the time the request for consideration of deferred action was made with USCIS
Have entered the United States illegally before June 15, 2012, or had their lawful immigration status expired as of June 15, 2012
Be currently enrolled in school, have graduated from high school or obtained a GED, or be an honorably discharged veteran of the Armed Forces or the Coast Guard, and
Have not been convicted of a felony, significant misdemeanor, or three or more other misdemeanors, and not otherwise pose a threat to U.S. national security

A significant misdemeanor is a misdemeanor for which the immigrant was sentenced to more than 90 days in jail; any domestic violence, sexual abuse, burglary, firearms, drug, or DUI offense is also considered to be a significant misdemeanor
How to Apply for DACA
USCIS will be introducing a new Form I-821D, Consideration of Deferred Action for Childhood Arrivals, in May 2014. This form will be used for both initial and renewal requests for deferred action.
Currently, only individuals over the age of 15 may make a request for consideration of deferred action. However, individuals under the age of 15 who are currently in removal proceedings may also apply.
To qualify for deferred action, applicants must provide documentation proving that they meet the eligibility requirements. Such documentation includes, but is not limited to: birth certificate; passport from the country of origin; school or military ID; school records from U.S. schools attended; medical records; utility bills; birth certificates of any children born in the United States; deeds or mortgages; tax returns; school transcripts; U.S. high school diploma or GED certificate; and military personnel records.
Because it is a new initiative, many potential applicants have questions regarding the DACA process. If you are an individual seeking more information about DACA, please contact our office. The New Jersey immigration lawyers at LS&P Lawyers are here to help you.