K-1 Fiancé Visa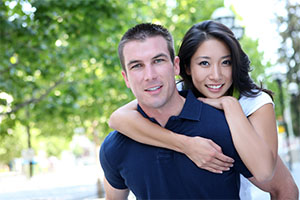 Meeting the person you want to spend the rest of your life with is an important milestone in an individual's life, but if that person happens to be a foreign national, the road to saying "I do" and starting a new life together can be particularly challenging. In order for a foreign citizen to legally join his or her fiancé (e) in the U.S., it will be necessary to obtain a K-1 visa.
Navigating the U.S. immigration system on your own can quickly become complex and overwhelming without the guidance of a knowledgeable lawyer. The New Jersey immigration attorneys at LS&P Lawyers have many years of experience helping couples successfully complete the application process for a K-1 visa and begin the journey toward full citizenship. Please contact us to learn more about our services and how we may be able to help you during a comprehensive consultation. Call us at (844) 288-7978 or send an email using our contact form.
What are the Requirements for a K-1 Visa?
To successfully obtain a K-1 visa, you and your fiancé(e) must meet the following requirements:
The couple must have met in person within the past two years,
Both parties must be free to marry and any former marriages must have been legally ended by death, annulment, or divorce,
The U.S. citizen must sponsor the foreign citizen by filing a Form I-129F with the United States Citizenship and Immigration Services (USCIS), and
After receiving the fiancé(e) visa, the couple must legally marry within 90 days of the fiancé(e)'s entry to the U.S.
It is important to remember that there are various documents, medical examinations, fees, and vaccinations that will be required with the I-129F form. Working with a dedicated immigration law firm will help ensure that your Form I-129F form is accepted and that your fiancé(e) may legally enter the U.S.
What Happens After Receiving a K-1 Visa?
A K-1 visa is not to be confused with a green card or sign of permanent residence. With a K-1, the foreign citizen fiancé(e) will be able to travel to the U.S. to marry his or her U.S. citizen sponsor. Once the couple has married, the foreign citizen may begin the application process for an adjustment of status to obtain a green card.
If the couple fails to marry within the 90-day period in the U.S., the foreign citizen must leave the U.S. or else he or she will be deemed in violation of immigration law, which can negatively impact his or her attempt to immigrate to the U.S. in the future.
What if my Fiancé(e) has Children?
If you are engaged to a foreign citizen with unmarried children younger than 21, the children may be eligible for a K-2 visa status. It will also be necessary for the U.S. citizen fiancé(e) to sponsor the children as part of the petition for the foreign citizen fiancé(e).
Effective Immigration Legal Services
Whether you or your fiancé(e) are seeking to immigrate to the United States through marriage, it is crucial that you consult with an experienced and knowledgeable attorney to help you understand every step of the process. One mistake could jeopardize your chances for success. Contact LS&P Lawyers to learn more about your rights and options regarding a fiancé(e) visa. You and your future spouse will better understand your circumstances and the steps to take going forward. Submit an online contact form or call us at (844) 288-7978.