Same-sex Spouses/Fiancés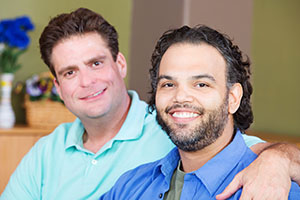 Following the U.S. Supreme Court ruling that the Defense of Marriage Act (DOMA) was unconstitutional, gay and lesbian couples are now granted the same rights and privileges as heterosexual couples under U.S. immigration law. This means a U.S. citizen may file an immigration petition on behalf of his or her spouse or fiancé, regardless of the foreign national's gender or sexual orientation.
Only a few months after the Supreme Court's historic decision, New Jersey legalized same-sex marriage within the state, further removing one of the barriers to gay and lesbian couples seeking a green card for a their spouses. Same sex marriages performed in New Jersey are now recognized as qualifying relationships for immigration benefits.
If you are a U.S. citizen and wish to sponsor your same-sex spouse or fiancé for a visa or green card, or if you are seeking to immigrate to the U.S., please do not hesitate to contact the New Jersey immigration lawyers at LS&P Lawyers.
What Immigration Benefits are Now Available to Same-Sex Spouses?
In order for same-sex couples to qualify for immigration benefits, it is still necessary for the marriage to take place in a state or country that legally recognizes gay and lesbian marriages. Same-sex couples are eligible for the following immigration benefits:
Same-sex spouses of individuals seeking employment-based immigration may qualify as a derivative spouse,
Same-sex spouses of U.S. citizens are eligible for a green card and/or non-immigrant visa sponsorship,
Same-sex spouses can use as a defense against deportation, cancellation of removal or a waiver based on hardship to a U.S. citizen or permanent resident spouse,
Same-sex spouses of U.S. citizens can apply for a provisional waiver for entering the U.S. without inspection,
Same-sex spouses can receive protection under the Violence Against Women Act (VAWA),
Children of the same-sex spouse can be petitioned by the U.S. citizen step-parent.
As with heterosexual couples, it is important that homosexual couples satisfy all requirements of the application and interview process. For professional guidance, contact an experienced immigration lawyer who is familiar with current same-sex immigration laws.
In order for a U.S. citizen to legally bring a same-sex foreign citizen spouse or fiancé(e) to the United States, the couple must file an I-130 petition, K-3 visa or a K-1 fiancé(e) visa. The requirements are no different for same-sex couples than heterosexual couples.
K-3 Marriage Visa Requirements:
The U.S. citizen spouse must file a Form I-130 on behalf of the foreign spouse,
The same-sex couple must be legally married in the country or U.S. state where the marriage took place,
The foreign citizen must apply for a K-3 visa from the country where the marriage took place.
K-1 Fiancé(e) Visa Requirements:
A U.S. citizen must sponsor the foreign citizen by filing Form I-129F with the U.S. Citizenship and Immigration Services (USCIS),
The U.S. citizen and same-sex foreign citizen must be allowed to legally marry in the U.S. state where the marriage will take place,
The U.S. citizen and foreign citizen must meet in person at least within the last two years.
To help you or your spouse obtain legal residence in the U.S., speak with a knowledgeable immigration lawyer at LS&P Lawyers as soon as possible. Our reliable legal team works closely with each and every client to ensure that the paperwork and filing process runs smoothly from start to finish.
Protecting Same-Sex Immigration Rights
While the latest immigration laws have eliminated some of the challenges facing same-sex couples, obtaining a U.S. visa is still a complicated and lengthy process. A single mistake on an application or during the filing process can jeopardize your chance for starting a life together in the United States. Contact the immigration lawyers at LS&P Lawyers to discuss your circumstances today. We have years of experience handling immigration cases and will work tirelessly to ensure your rights as a same-sex couple are protected. Call (844) 288-7978 or submit a contact form online.