EB-5 Green Card
Cash for Green Cards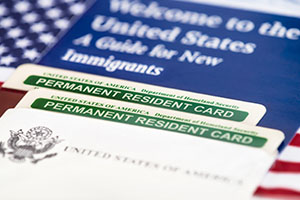 As the economy continues trending downward, the U.S government is looking for new ways to extend aid to public works projects. One way of funding projects is through private investments by foreign nationals. In exchange for their money, or as an incentive, the government promises to provide foreign investors with a "green card" or US permanent residency.
Under a federal immigration program, known simply as EB-5, foreign nationals who invest $1 Million will receive a visa that provides residency for two years and can be converted into a permanent green card if the holders can show the investment produced at least 10 jobs, even if the project has not been completed. The requisite amount has been loosened over time by Congress in an attempt to further encourage foreign investors. The Regional Center program now allows a minimum investment of $500,000. Foreigners with high-level professional skills (as well as the means) are quick to apply under this program.
EB-5 Requirements
The requirements of the investment under EB-5 are as follows:
The investment must be in a business, not a passive security such as the stock market;
The business must have been created after November 29, 1990 or the investment must substantially change an older business;
The amount of investment may be $500,000 in a rural or high unemployment area as defined by the most recent census;
The investor has to ensure that 10 jobs are created;
Often, what has been the more daunting aspect of the criteria is the creation of 10 jobs. However, under the Regional Center program, the investor is no longer required to directly employ 10 U.S. workers. Instead, only an indirect causality is required, meaning, so long as the project invested in creates enough jobs such that 10 of those positions may be attributed to the foreign investment. This "indirect" tactic is only available in Regional Centers deemed appropriate by the provisions of the program.
It should be noted that the qualifying investment covers not only public work projects. Most often, the investment is in a private commercial enterprise. Since this is an investment, the investor does not surrender his money to the U.S. government and will have an opportunity to earn from this investment. This is a possible "win-win" situation for the investor – he gets a green card and earns income from the investment.
Call LS&P Lawyers Today
Opportunities such as these can be intriguing for more reasons than simply obtaining permanent residence status in The United States. The program can also be useful for those looking to diversify their portfolios on an international level or simply expand their business to the U.S. Of course, the benefit of U.S. permanent residency is never overlooked, and as the program continues to expand its scope, such benefits are becoming increasingly more available.