L-1 Visa
L-1: Intracompany Transferee Visa to the United States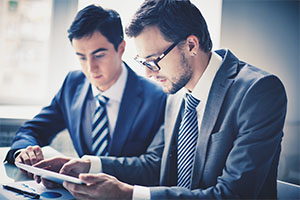 If you are a manager, executive, or an employee of a foreign company with specialized knowledge, and wish to come to the United States to work for an affiliated entity of that company, then you should get in touch with a dependable attorney and inquire about the L-1 intracompany transferee visa. The New Jersey immigration lawyers at LS&P Lawyers can guide you through the complex L-1 application process, ensure you fill out all the documentation correctly, and answer any questions that may arise. Call us today at (908) 709-0500 to discuss with us your case and available options.
What are the Basic Qualification Requirements for an L-1 Visa?
In order to qualify, you must have been employed by the sponsoring company for at least one year within the past three years, and will be fulfilling a position as a manager, executive, or employee with specialized knowledge, for the company's affiliate entity in the U.S. Prospective executives and managers should apply for an L-1A visa while specialized knowledge employees should apply for an L-1B visa.
The U.S. company you are planning to work for must be a parent, branch, subsidiary, affiliate, or joint venture partner of your sponsoring foreign company. It does not matter whether the sponsoring company is a U.S. sector or originated in another country; the only requirement is that it is located in a country apart from the U.S.
You may stay as long as your visa allows and as long as the U.S. company stays in business. You are expected to return to your home country upon completion of your duties in the U.S. If the sponsoring employer somehow shuts down, your U.S. employer must be able to transfer your L-1 visa sponsorship to another related company.
What are the Benefits and Limitations of an L-1 Visa?
The L-1 visa initially allows you to work in the U.S. for a maximum of three years. If three years isn't enough, you may ask for two-year extensions until you hit the legal limit. Managers or executives may legally stay in the U.S. for up to seven years. Workers with specialized knowledge may legally stay for up to five years.
If you wish to have your spouse and children who are not of age accompany you to the U.S., your family must obtain L-2 visas. Once in the country, your spouse may pursue employment authorization if so desired.
Your employer is not barred from sponsoring you for a green card. Immigration law considers L-1 visa "dual intent," meaning you will not be questioned about your seemingly contradictory desire to work temporarily in the U.S. as an L-1 visa holder yet pursue residence at the same time.
Helping You Navigate Immigration Law
Do not forego consulting with one of the experienced L-1 visa attorneys at LS&P Lawyers before you engage in the application process. It is easy to make a misstep, and any error can lead to long delays. Contact us today at (844) 288-7978 for reliable legal counsel.